High-end EDXRF spectrometer
Analyze. Everything. Fast
Elemental analysis from C – Am
Energy-Dispersive X-ray Fluorescence (EDXRF)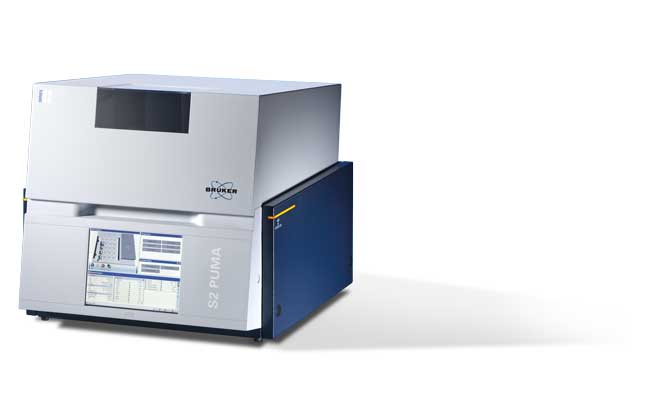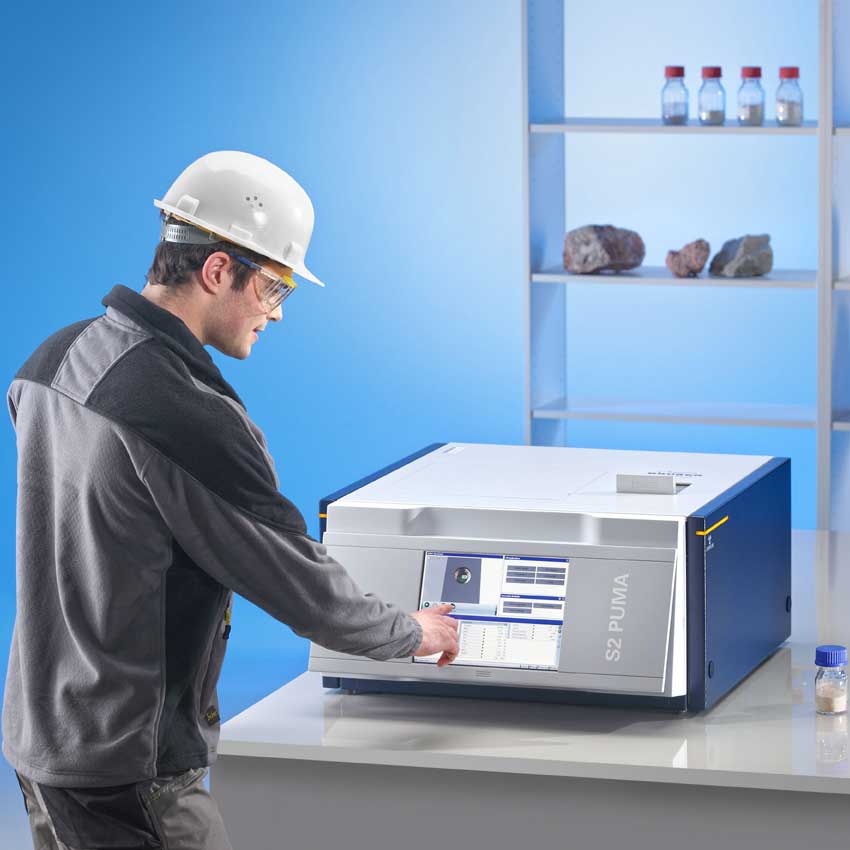 The Bruker S2 PUMA Series 2 with a single-position manual loading delivers a simple sample handling mechanism for low sample volumes and can be fitted with the fast detectors and the ergonomic touchscreen.
Without the touchscreen it can be controlled remotely or using an external PC with the instrument control software.
High Performance for Small Sample Batches
High power 50 Watt X-ray tube and 10-position automatic filter changer for optimal sample excitation
HighSense detectors: Bruker's next generation silicon drift detectors (SDD) with super high count rates and excellent energy resolution for short measurement times
Convenient and fail-safe sample handling
Easy Operation and Shortest Training Time
Intuitive TouchControl software enables anybody to run the system after a short introduction (9 languages available)
Integrated glove-friendly touchscreen display allows routine operation without external PC
S2 PUMA Series 2 – Carousel
Measure any sample in minutes: Solid, fused bead, pressed pellet, loose powder, liquid, bulk – simply load sample batches using the EasyLoadTM tray or place your bulk sample directly into the chamber. The S2 PUMA Series 2 offers the largest sample chamber with dimensions of 450 x 420 x 100 mm. Its carousel tray can hold mixed batches with up to 12 samples of 32, 40, or 51.5 mm in diameter or up to 18 samples of 40 mm in diameter.
The S2 PUMA Series 2 Carousel is the all-rounder among the benchtop EDXRF analyzers when it comes to sample versatility.
Any Sample Type
Solid, powder, liquid,
Bulk, one-piece, or prepared
Small-Spot Analysis
Collimator masks allow analysis of smallest particles within large samples
Spot size: 1 to 34 mm
HD camera for sample positioning and verification
SMART.QUANT FP
Push-button standardless solution for elemental analysis
Powerful algorithms for quick and reliable results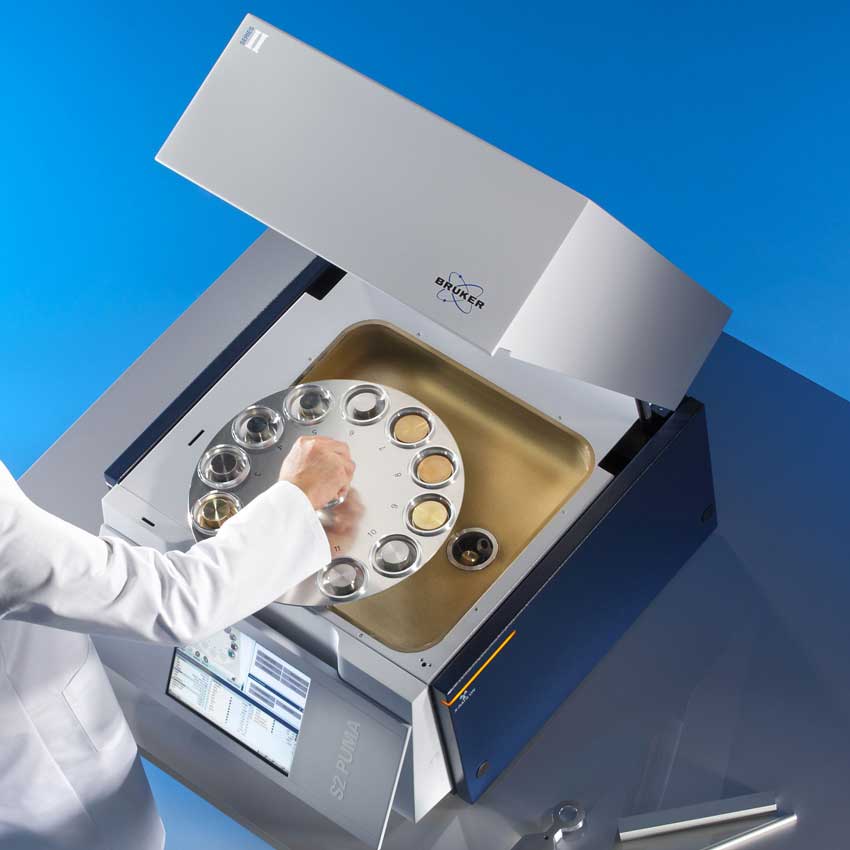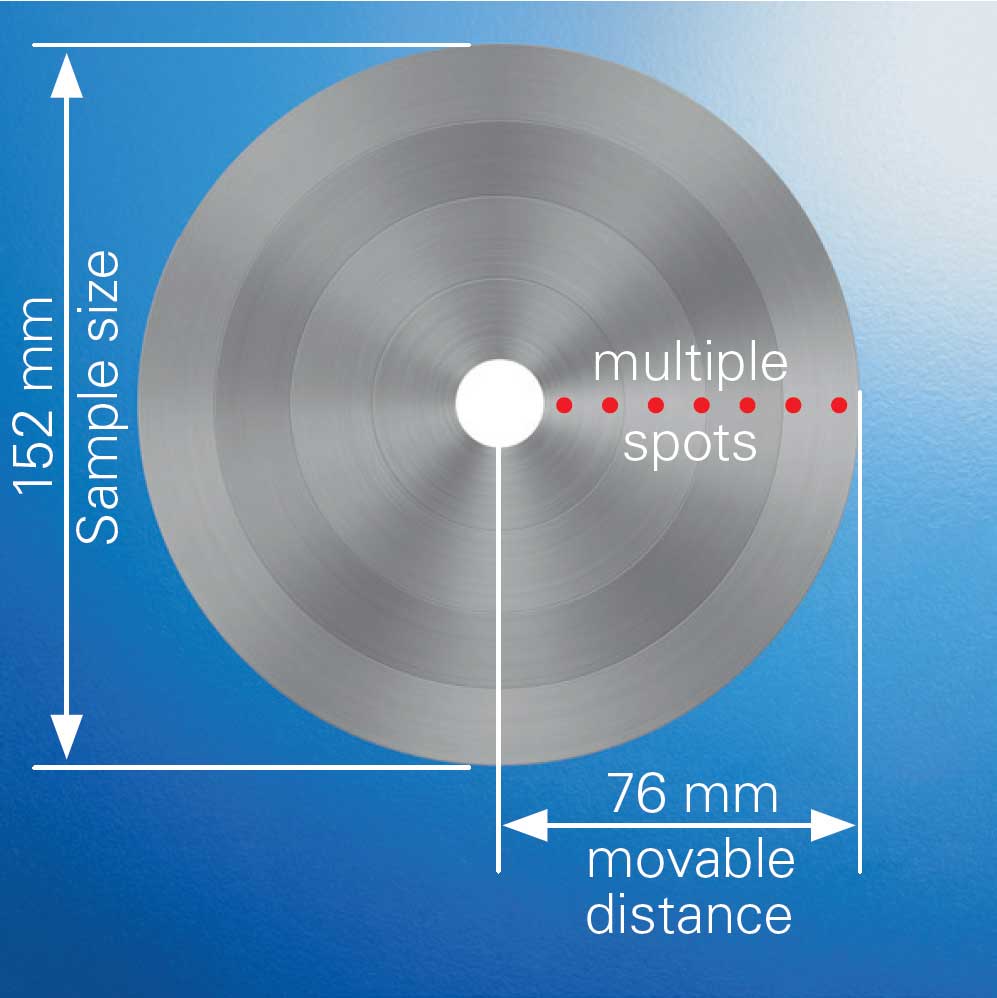 Mapping-Stage
The S2 PUMA Series 2 with mapping-stage makes multi-spot quality monitoring an easy task. It lets you quantify the elemental composition of your sample or even the thickness of a coating with high accuracy and spatial resolution (down to 1 mm). The linear motion-drive positions the sample precisely and reproducible. The actual position can be recorded with an integrated HD camera
.
The mapping stage extends the application range of the S2 PUMA Series 2 into semiconductors and coatings, where spatial resolution is required.
Inserts for various sample sizes are available, ranging from 40 mm to 152 mm in diameter. Customized inserts are available on request.
Key Benefits
Measure material homogeneity and/or coating thickness
Small and large samples – up to 152 mm in diameter
Collimator masks for spot sizes from 1 to 34 mm
High precision linear stage for accurate positioning
Integrated HD camera for automated image collection