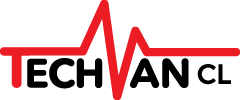 Mobile Lab for Local Deployment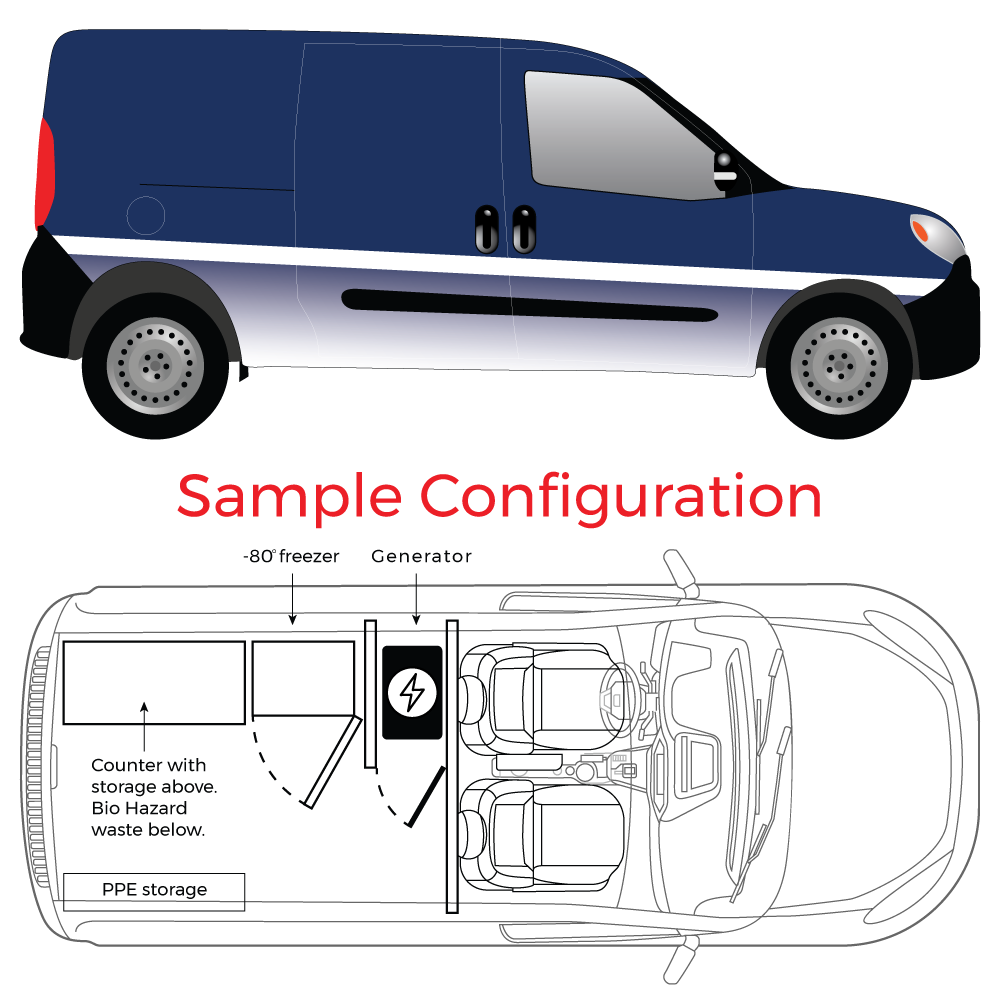 The Core Vehicle
The TechVan CL (City/Local) is built upon a RAM ProMaster City platform – one of the most reliable and highly rated commercial vehicles of its type. The ProMaster City was selected for its reliability, its best-in-class cargo capacity, it's class leading horsepower, and it's safety features which include seven airbags (including driver and passenger airbags, the driver knee-bolster airbag, front seat-mounted side airbags, and front side curtain airbags), and12-inch front disc brakes which offer outstanding durability and impressive performance. Of course, this vehicle can also be configured on other comparable vehicles including Mercedes, Ford, etc.
Other standard features include a rear backup camera utilizing advanced technology. The standard U-Connect 3 system features a 5" touchscreen with integrated Voice Command, Hands-Free calling, Bluetooth Streaming Audio, and convenient steering wheel controls. With a 12-volt outlet and high-speed USB outlet in the front and auxiliary 12-volt outlet in the rear, you can stay powered and stay connected.
It features a 3 year/36,000-mile basic limited warranty and a 5 year/60,000-mile drivetrain limited warranty. Of course, we can also provide the conversion of your comparable vehicle.
Vaccine and PPE Storage and Access
A critical component in the TechVan CL Vaccination Stations is the unique control system/renewable designed specifically as the power source for -80 Freezers mounted inside the vehicle. The reliability of this system is paramount to protecting the integrity of the vaccine and the successful distribution of an effective vaccination program.
Our Tech1 system consists of a 300AH lithium-ion phosphate battery for storage of 12VDC designed to continuously provide 120VAC at 60Hz and 3.3A or max of 600Watts feeding a 700-watt 120V sine wave inverter to power a single -80C freezer.
This battery was selected because it does not produce gas when charging – all other battery types(AGM, sealed, lead Acid) produce hydrogen gas when charged. This gas can potentially lead to an explosion which requires that the batteries be separate from any electronics and have adequate ventilation. Further, these batteries last much longer than other batteries (10-year lifetime) and can be charged more often (2000-5000 cycles). The power supply we utilize includes a battery management system – so the battery is charged properly and safely and continuously monitored. Finally, this is the most environmentally friendly battery produced – nonpolluting.
The battery housing will contain an automatically controlled 12VDC fan and intake built into the enclosure to keep the battery and electronics cool while in operation.
The Tech1 control system utilizes a dual input charger/controller and inverter with 120V auto detection. Status display is via a battery monitor display and status lights for the 120V output. The display provides percent charged, time left, and battery voltage readout.
At full charge, this renewable power source provides about 60 hrs of run time. It takes about 6 hrs to charge up from "low charge" - so it can be left for weekend with no loss of power – and can be charged via 3 methods:
Van charging circuit – automatically connecting immediately when the vehicle is started
Roof mounted solar cell (optional)
120V 15A feed from a building or from a portable generator
The control system also provides an additional 120V outlet for use with auxiliary equipment.
Safety/Disinfection
As the TechVan CL Vaccination Station is designed to be used for viral testing and vaccinations, it is possible that contamination from PPE or other sources could be a risk. In order to mitigate the risk, the TechVan rear workspace has been developed to be effectively isolated* from the driver/passenger compartment and is designed with surfaces that can be easily wiped down and/or disinfected.
Used PPE and other disposable materials can be collected and disposed of in a concealed biohazard containment vessel which can be removed and disposed of in a safe and appropriate manner (following guidelines recommended by health officials and established as part of the vehicle Standard Operating Procedures).
To ensure that no trace contaminants are active, a special UV light and ozone disinfection are optionally available which can automatically cycle on and off to avoid personnel exposure.
Finally, to further minimize exposure risk, we offer an optional rinse system which provides for the effluent to be collected via the drain/collection system incorporated into the underside of the vehicle and disposed of in a safe and proper manner (again, as determined by owner Standard Operating Procedures and recommendations of health officials). With this option, all interior components (wall and floor surfaces, PPE cabinetry, power supply housing, freezer housing, etc.) feature sealed access and are designed for rinse down without damage to contained materials.
*Note that complete isolation of the space is impossible due to the nature of construction of the core vehicle, but every reasonable effort has been made to minimize any risk of cross contamination from one space to another.
Additional Pertinent Features
The modular design of each component within the Vaccination Station allows for simple/cost effective replacement should the need arise. Although we have chosen the most reliable components and design, we are realistic in acknowledging that things sometimes fail. The ability to quickly interchange modular components allows the TechVan CL Vaccination Station to be prepared for the unexpected.
The TechVan CL Vaccination Station can be fully wrapped in high-quality 3M vinyl wrap with professional graphics identifying it as an official Test and Vaccination Station. In addition to providing a high profile for the pandemic vaccination program, we believe this designation provides an additional level of safety to occupants when delivering vaccine by identifying them as a legitimate source.
Thinking Ahead - Repurposing the Vehicle
The COVID pandemic vaccination program won't last forever. There will come a day when you may want to repurpose the vehicle. We'll be there. The CL Vaccination Station is only one of many modular configurations possible for the TechVan CL. We can assist you in repurposing to a design of our own or to your own special application or to a vehicle of your choosing. The interior is designed and constructed such that reconfiguring can be accomplished with minimal effort. The modular design of each component ensures that removal and replacement are easily, and cost effectively, accomplished. The high-quality wrap is fully removable, should the need to arise to repurpose or rebrand the vehicle.