Nitrogen Gas Generators
High purity nitrogen generators supporting your analytical instruments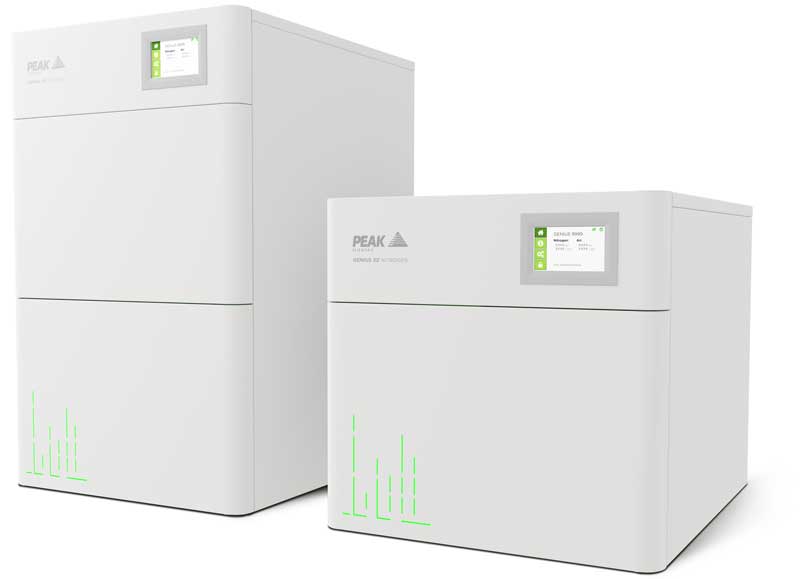 With nitrogen generators available in flow rates from as little as 10 L/min, for ESLD and Compact Mass Spectrometers, up to our whole-of-lab i-Flow N2 generators producing over 3000 L/min of high purity (95% to 99.9995%) nitrogen and everything in between, our nitrogen generators are the number one choice for laboratory nitrogen gas generators..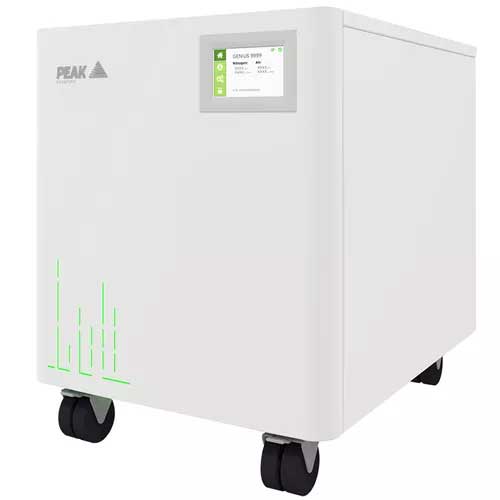 Genius XE SMZ Nitrogen Gas Generator
The smallest hydrogen generator for GC-FID, Precision Hydrogen SL is the perfect hydrogen on demand solution for your laboratory. Developed to offer a streamlined laboratory-grade hydrogen gas solution for GC flame detectors at a purity of 99.9995%. Precision hydrogen SL is safe, simple to use, easy to maintain and takes up minimal bench space.
With an impressive, streamlined form factor, Precision Hydrogen SL produces hydrogen at up to 200cc/min with no compromise on safety. A range of features ensure that Precision SL will produce hydrogen safely, storing a minimal volume of gas compared to cylinders.
Includes a 2-year warranty.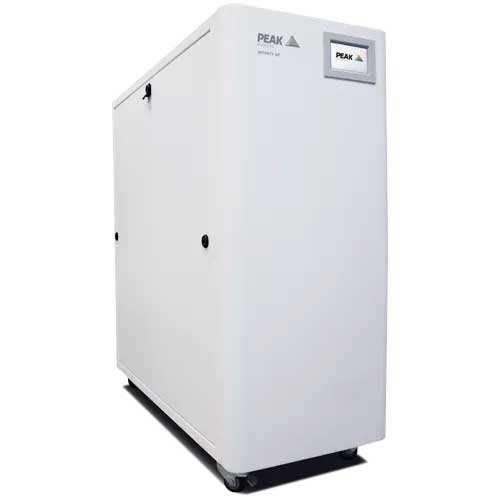 Infinity XE 60 Series Membrane Nitrogen Generator
Producing between 10 and 520 L/min of high purity nitrogen gas, the Infinity XE 60 series nitrogen membrane gas generators can comfortably supply multiple laboratory instruments with instrument grade nitrogen.
Offering labs a cost-effective alternative to cylinders in a compact, space saving nitrogen solution, the Infinity XE 60's Intelligent Membrane Management (IMM) uniquely optimizes air consumption depending on set purity, inlet pressure/flow and nitrogen demand. With variable N2 purities (95- 99.5%), XE 60 can meet the demands of numerous applications such as ELSD, NMR, FT/MS, Sample Evaporators, as well as LC-MS and should your lab demands grow over time, Infinity XE 60 can have its nitrogen output increased on-site up to a maximum of 520 L/min all within the same original footprint.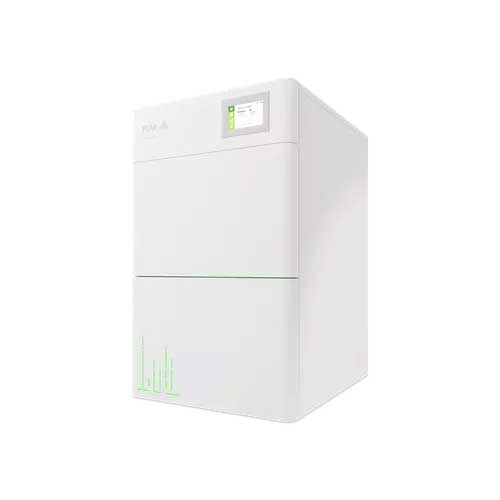 Genius XE 70 Laboratory gas generator
Inspired by the success of our best-selling Genius line of nitrogen gas generators for LC-MS/MS, Genius XE Nitrogen is a cutting-edge evolution combining advanced technology with refined and robust engineering. With two models - XE 35 (up to 35 L/min) and XE 70 (up to 70 L/min) - Genius XE Nitrogen provides a premium, standalone nitrogen solution for high performance LC-MS/MS and other mission-critical laboratory applications where performance and reliability are paramount.
Featuring Multi-Stage Purification™ and next-generation integrated compressors with Electronic Compressor Optimization™ (ECO) technology, Genius XE delivers factory certifiable purity up to 99.5% on-demand, 24/7 with a convenient fixed annual service interval.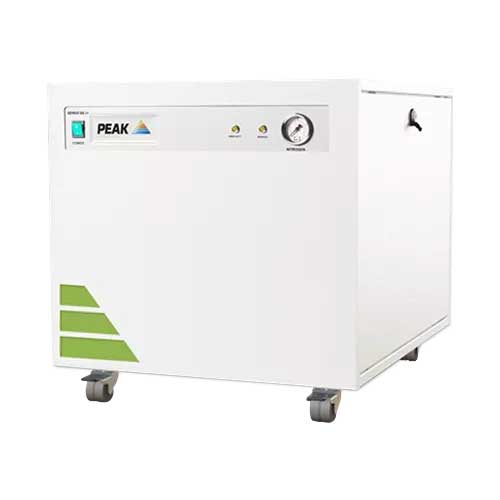 Genius SQ 24 nitrogen generator
For labs using any Single Quad LC-MS systems, the Genius SQ 24 nitrogen gas generator delivers analytical grade nitrogen supply dedicated for this instrument. With a compact size to fit under most lab benches and flow rates of up to 24 L/min, meeting and exceeding the maximum flow rate required by any Single Quad LC-MS on the market today, your lab can enjoy hassle free nitrogen gas which helps you deliver the best analytical results.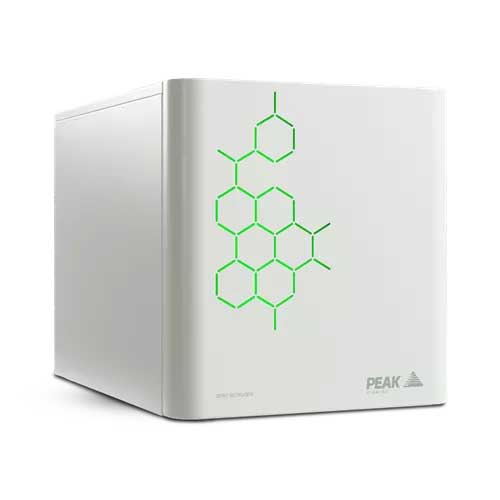 Precision Nitrogen Trace 1000 - GC gas generator
The Precision Nitrogen Trace 1000 has been developed to provide a constant and consistent source of nitrogen for carrier, make-up and reference gas at trace detection levels for GC applications as well as for sample preparation. These generators are capable of delivering ultra high purity nitrogen, removing oxygen and moisture via Pressure Swing Absorption using Carbon Molecular Sieve technology, as well as removing hydrocarbons by means of catalytic oxidation to ensure maximum purity output.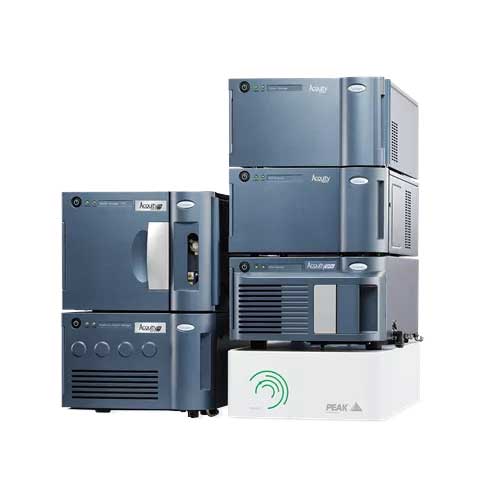 Solaris XE Lab for Waters - N2 solution for ACQUITY™ QDa™
Peak Scientific's Solaris XE nitrogen generator offers a reliable, compressor-free gas solution that can comfortably meet the demands of most mass spectrometers within Waters' portfolio of instruments. Using our tried and tested membrane technology, Solaris XE can operate with varying flow rates (up to 35L/min of high purity nitrogen), purity (up to 99.5%) and outlet pressure can be adjusted down from 116psi.
Solaris XE for Waters has been designed in collaboration with Waters as a dedicated gas solution for the ACQUITY QDa Detector. Solaris XE is fitted with alignment blocks specifically designed to enable the generator to be stacked underneath the ACQUITY QDa in most modular stacking configurations*, providing a compact and discreet space-saving solution within the lab. Alternatively this unit can be wall mounted or free standing on a lab bench.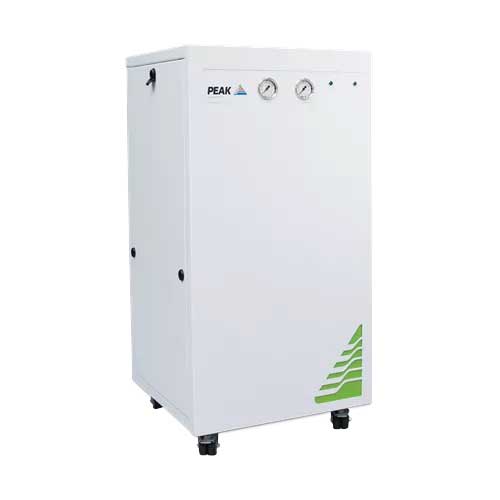 Infinity XE 503X membrane nitrogen generator
Producing between 30-390 L/min of high quality, laboratory grade nitrogen gas, the Infinity XE 503X can comfortably supply gas for multiple laboratory instruments. With variable nitrogen purity available between 95-99.5% (depending on flow rate), Infinity XE generators can be configured to suit the needs of several applications, such as LC-MS, ELSD, Sample Preparation and more.
Peak Scientific's Infinity XE series generators have been engineered to provide nitrogen gas to laboratories that already have an external source of clean, dry and oil-free air; and meets a minimum grade of ISO8573-1:2010 Class 1.4.1 - NB: Were this is not available, Peak can provide consultative assistance on what specifications of compressed air and pre-filtration are required, as well as supply these items as part of a complete Infinity XE gas generation solution.
Infinity XE series nitrogen generators are effectively silent whilst in operation and have no moving parts, so require minimal annual maintenance.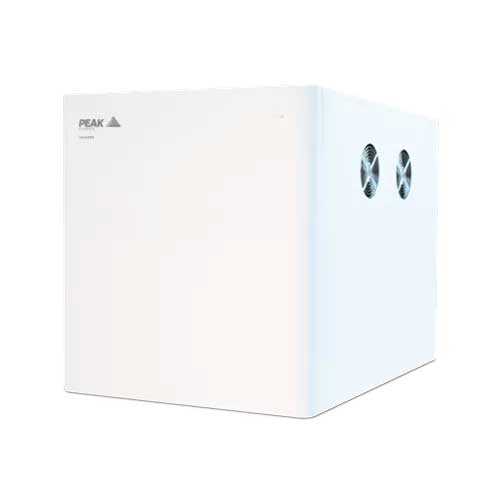 Halo - MP-AES nitrogen gas generator
Designed as a dedicated solution for MP-AES instruments supplying high purity nitrogen for plasma support gas or monochromator purge and dry air supply for POP gas and monochromator air purge, Halo produces 25 L/min of 99.5% or 10 L/min of 99.95% pure nitrogen with a supporting dry air supply of up to 36.5 L/min. Fitted with an oxygen analyzer, Halo will alert when operating purity has been reached through a purity status indicating LED light.
Compact in size, Halo is a space-saving solution for the lab, freeing up valuable lab space whilst being far easier to transport for field research than bulky gas cylinders or generators with an external air source. Manufactured by Peak's laboratory gas generation experts, Halo has been engineered to operate comfortably at high altitude with the most advanced gas generation technology to produce the reliable, high purity nitrogen and dry air for your MP-AES application.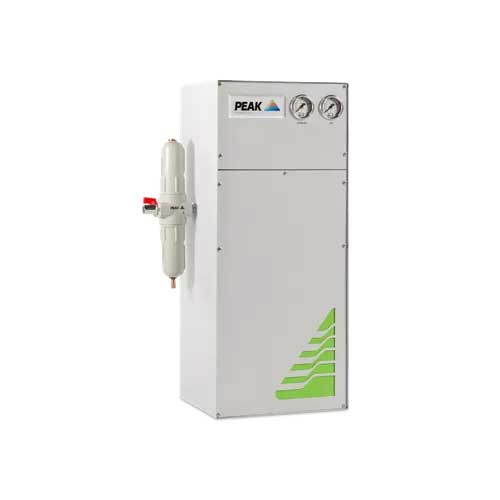 Infinity 1046 Nitrogen Generator
Generating up to 20 L/min nitrogen and 70 L/min dry air, the Infinity 1046 has been specifically designed to support the PerkinElmer QSight Triple Quad, whether single/dual source configuration. The Infinity Series are compressor-free gas generators which require a clean source of in-house air to operate effectively. With very few moving parts, these generators are effectively silent in operation and need only minimal care to ensure continued high performance and extended product life.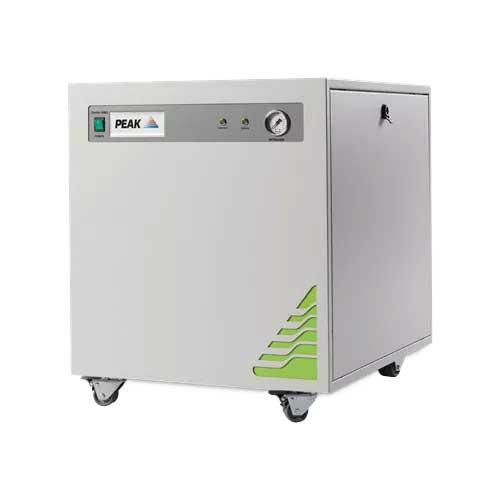 Genius 1050 PSA Nitrogen Generator
Utilizing a Carbon Molecular Sieve with our Pressure Swing Adsorption technology, the Genius 1050 PSA nitrogen generator provides on-site nitrogen for most LC-MS instruments. The Genius 1050 is well suited for a range of particularly demanding applications where specific performance benchmarks need to be met.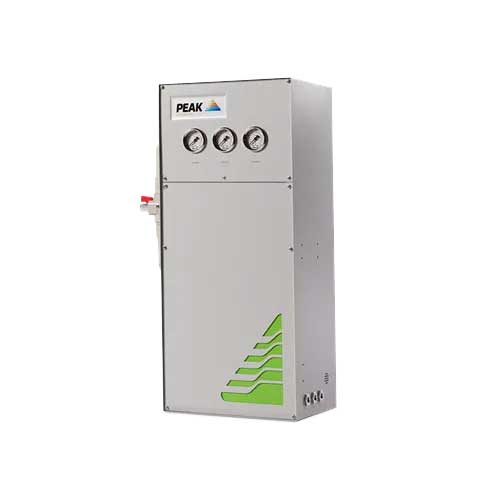 Infinity 1032 nitrogen generators
Membrane technology is at the heart of the Infinity 1032, generating laboratory-grade nitrogen on-site to users with an existing air supply. With the ability to perform at its maximum 24 hours a day, if required, and minimum maintenance requirements, the Infinity 1032 is a durable, hassle-free solution for SCIEX LC-MS instruments requiring curtain gas flows of up to 38 L/min, source gas flows of up to 52 L/min and exhaust gas flows of up to 50 L/min.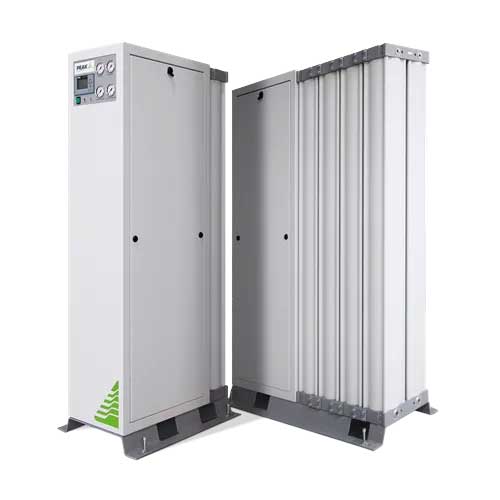 i-FlowLab 6XX2 laboratory nitrogen supply
i-FlowLab is a total laboratory on-site nitrogen gas solution for customers with high flow demands or high purity applications and is capable of delivering a consistent and reliable supply of gas on-demand.
Engineered based on robust PSA technology, i-FlowLab 6XX2 nitrogen generators are available in over 100 pre-configured specifications, designed to suit the full and varying demands of your facility, with flow rates ranging from 21-1236 L/min at purities up to 99.9995% (5ppm O2).
Modular and scalable, i-FlowLab is designed as a future-proof solution, with the ability to be expanded retrospectively, with the addition of CMS columns, in order to increase capacity and accommodate future growth in requirements.
i-FlowLab is an ideal complete laboratory solution for multiple applications, such as LC-MS, Sample Preparation, Gloveboxes and many more.