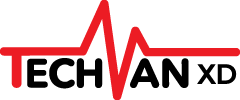 Extended Deployment Mobile Lab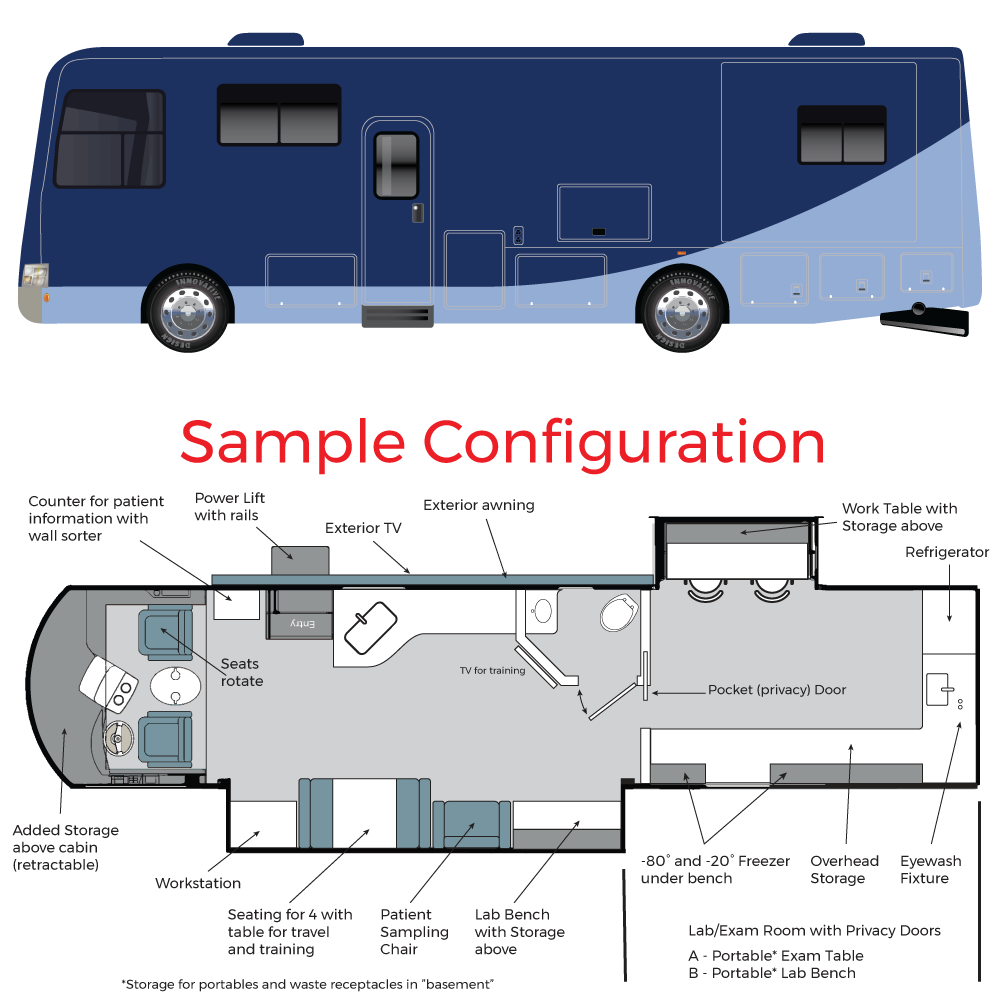 The Core Vehicle
The TechVan XD Mobile Lab is a fully customizable vehicle built upon a platform of your choosing in a configuration jointly determined in discussions between you and our team. We generally recommend a core vehicle utilizing either a high-quality Class A RV product or a Diesel pusher with a Freightliner air-cushioned chassis, Cummins Diesel, and Allison transmission - but we can configure to most any vehicle. In fact, Class C RV's and box trucks can make great conversions for many applications.
Vaccine and PPE Storage and Access
The TechVan XD typically includes one 3.3 cu. Ft. -80-degree freezer, one -20-degree freezer, and a full-size pharmacy refrigerator for maintaining vaccines and other temperature sensitive materials in accordance with manufacturer's recommendations. Each freezer operates on engine power, generator power, battery power, or shore power and for up to two+ days without external power when equipped with the unique power source described below.
Because the TechVan XD is designed to accommodate long range and/or long-term deployment where access to services may be difficult, we recommend incorporating a large generator, water and waste vessels, restroom facilities, a microwave oven, and a staff under-counter refrigerator. Copious storage is designed into the XD vehicle.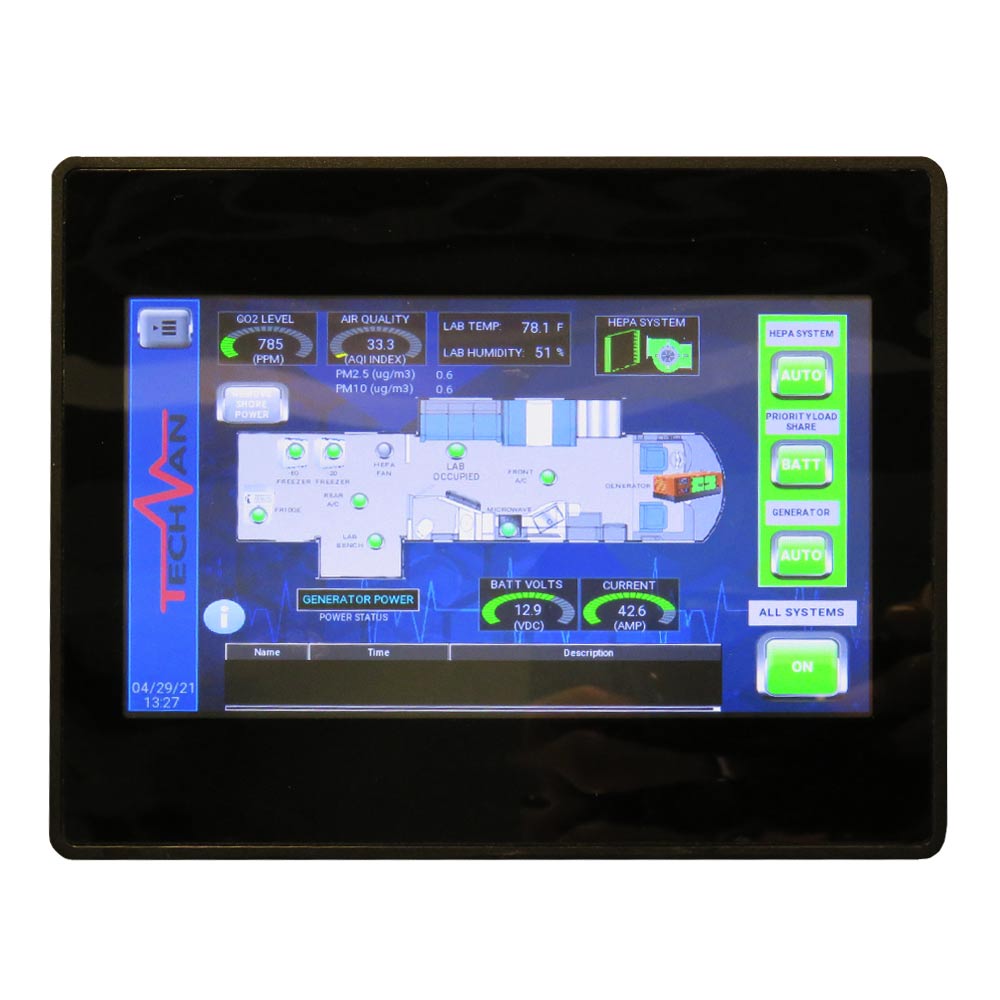 TechVan Environmental Control System
A critical component in the TechVan XD is the generator-based power source for the multiple Refrigerators and Freezers mounted inside the vehicle. The reliability of this system is paramount to protecting the integrity of the vaccine and the successful distribution of an effective vaccination program. Typically, the generator will operate off the same fuel tank as the vehicle or a separate propane source. Our exclusive TechVan controls monitor current voltage and amperage and can report historical usage of both. Additionally, this system allows prioritization of each electrical device so that in the unlikely event of an overload, they will shut down systematically to protect the most precious samples and materials (the system also prioritizes startup so that the generator can start without excessive overload – further ensuring electrical integrity).
Of course, in any clinical or laboratory environment, air quality is important. The TechVan Vaccination Station includes a HEPA filtration system that can be controlled by an on-board air particle counter and an IR-based system that monitors the personnel count in the space. This exclusive TechVan control system includes a 7" color display for instant recognition and monitoring of environmental conditions.
The Tech2 Advanced Power Source Technology
An option to incorporate our Tech2 power source system provides an alternative power source which consists of two independent 300AH lithium-ion phosphate battery for storage of 12VDC designed to continuously provide 120VAC at 60Hz and 3.3A or max of 600Watts feeding a 700-watt 120V sine wave inverter to power a single freezer or refrigerator. The two sources serve as redundant backups to one another – an important consideration in remote deployment. These batteries were selected because they do not produce gas when charging – all other battery types (AGM, sealed, lead Acid) produce hydrogen gas when charged. This gas can potentially lead to an explosion which requires that the batteries be separate from any electronics and have adequate ventilation. Further, these batteries last much longer than other batteries (10-year lifetime) and can be charged more often (2000-5000 cycles). The power supply we utilize includes a battery management system – so the battery is charged properly and safely and continuously monitored. Finally, this is the most environmentally friendly battery produced providing a nonpolluting energy source. The battery housings contain an automatically controlled 12VDC fan and intake built into the enclosure to keep the battery and electronics cool while in operation.
The Tech2 control system features a 4" color touchscreen with graphic user controls and status and utilizes a dual input charger/controller and inverter with 120V auto detection. Status display is via a battery monitor display and status lights for the 120V output. The display provides percent charged, time left, and battery voltage readout.
In addition, Tech2 controls provide and auto–generator start to close a contact to automatically start a generator if the vehicle charging system is off and the battery charge gets below a programmable limit, AND to automatically shut off the generator once battery is charged. An option is to include an Auto Vehicle start which allows us to modify a vehicle key fob to charge the system – this option will automatically start the vehicle if the charge level of the battery reaches below a programmable limit and automatically turn off the vehicle once the battery is charged. Finally, a solar charging option is available whereby we can simply activate and plug in the optional 210W solar cell – this option keeps the battery charged indefinitely as long as there is sun every few days. With approx. 1 hr. of full sunlight the panel can charge the battery for about 5 hrs. of runtime.
At full charge, the renewable power source provides about 60 hrs. of run time. It takes about 6 hrs. to charge up from low charge - so it can be left for weekend with no loss of power – and can be charged via 4 methods:
Van charging circuit – automatically connecting immediately when the vehicle is started
Roof mounted solar cell (optional)
120V 15A feed from a building or from a portable generator
Via a remote start function to charge from vehicle – even if the vehicle's power is off
Safety/Disinfection
As the TechVan XD Vaccination Station is designed to be used for viral vaccinations, it is possible that contamination from PPE or other sources could be a risk. In order to mitigate the risk, the TechVan rear workspace can be designed to be effectively isolated* from the driver/passenger compartment and for rinse down and/or disinfection.
To further minimize exposure risk, when the rinse down design is incorporated the effluent can be collected via the drain/collection system incorporated into the underside of the vehicle and disposed of in a safe and proper manner (as determined by owner Standard Operating Procedures and recommendations of health officials). Likewise, used PPE and other materials can be collected and disposed of in a concealed biohazard containment vessel which can be removed and disposed of in a safe and appropriate manner (again, following guidelines recommended by health officials and established as part of the vehicle Standard Operating Procedures).
Most interior components (wall and floor surfaces, PPE cabinetry, power supply housing, freezer housing, etc.) can feature sealed access and can be designed for rinse down without damage to contained materials. Finally, to ensure that no trace contaminants are active, a special UV light can be provided which automatically cycles on for 5 minutes whenever the vehicle is started. An ozone disinfection system can also be installed with ozone alarms to protect personnel from exposure.
*Note that complete isolation of the space is impossible due to the nature of construction of the core vehicle, but every reasonable effort has been made to minimize any risk of cross contamination from one space to another.
Exterior
The TechVan XD Vaccination Station can be fully wrapped in high-quality 3M vinyl wrap with professional graphics making it easily identifiable. In addition to providing a high profile for visitors, we believe this designation provides high recognition for the public.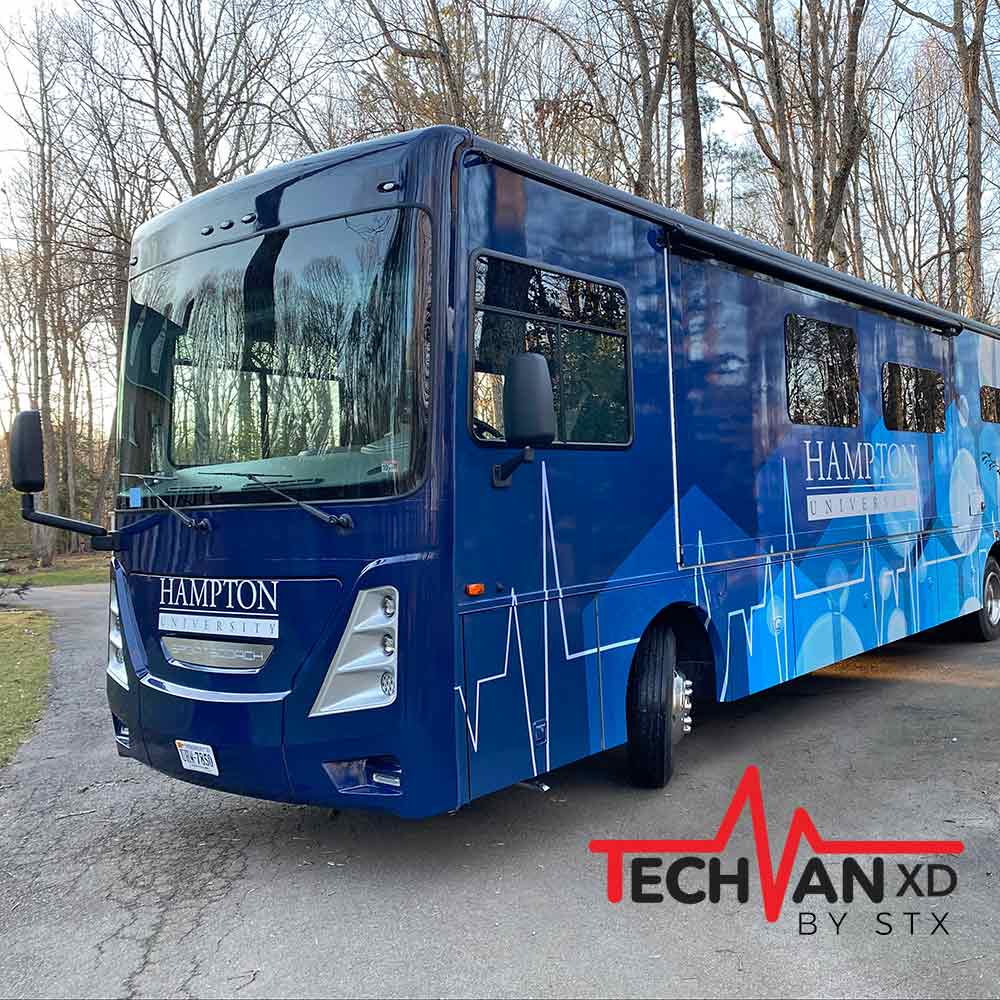 Additional Pertinent Features
The modular design of each component within the Vaccination Station allows for each vehicle to be customized to the user's design selecting those options that are relevant to their specific needs. The modular concept also allows for simple/cost effective replacement should the need arise. Although we have chosen the most reliable components and design, we are realistic in acknowledging that things sometimes fail. We have designed the TechVan XD Vaccination Station to be prepared for the unexpected.
There is a long list of optional TechVan XD features which extend well beyond what is discussed here. Please see that list on our website at www.TechVan.us. Or perhaps you have an idea that we haven't included in that list – if so, give us a call and we can probably accommodate you.
Thinking Ahead - Repurposing the Vehicle
There will come a day when you may want to repurpose the vehicle. We'll be there. The XD Vaccination Station is only one of many configurations possible for the TechVan XD. We can assist you in repurposing to a design of our own or to your own special application. The interior is designed and constructed such that reconfiguring can be accomplished with minimal effort. The modular design of each component ensures that removal and replacement are easily accomplished and even the exterior is easily changed as the chosen 3M professional wrap materials are uniquely able to be removed should the van be repurposed.